Textile & other clusters will increase India-Africa trade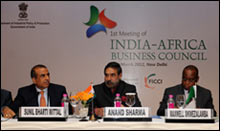 The Union Minister of Commerce, Industry and Textiles of India, Sh. Anand Sharma, and the African Trade and Industry Ministers met in New Delhi for the 2nd meeting of the India-Africa Trade Ministers. The Meeting was co-chaired by Hon'ble Dr. Maxwell M. Mkwezalamba, Commissioner for Economic Affairs, African Union Commission, and Sh. Anand Sharma.

During the meeting, the Ministers launched the India-Africa Business Council (IABC). The IABC is co-chaired by Mr. Sunil Bharti Mittal, Chairman, Bharti Group from India side and Mr. Alhaji Aliko Dangote, GCON, President, Chief Executive, Dangote Group, Nigeria from African side.

The Council will suggest the way forward on enhancing economic and commercial relations between India and Africa and also identify and address issues which hinder growth of economic partnership between India and Africa.

The core sectors of cooperation which will be explored by IABC are Agriculture, including Agro-processing, Manufacturing, Pharmaceuticals, Textiles, Mining, Petroleum & Natural Gas, Information Technology and Information Technology Enabled Services, Gems and Jewellery, Banking, Financial Services (including microfinance), Energy, Core Infrastructure including Roads and Railways. The Council met later in the day.

During the meeting, the Cotton Technical Assistance Programme in the C-4 countries (Burkina Faso, Benin, Chad, and Mali), Malawi, Nigeria and Uganda were also launched. The Technical Assistance Programme in the cotton sector is an initiative of the Government of India under the umbrella of the 'India-Africa Forum Summit' towards helping the above-mentioned cotton growing countries of Africa to build capacity, technical expertise and thereby competitiveness in the field. IL&FS Cluster Development Initiative Limited is the Project Management Agency for implementing the Project.

During the meeting, the Indian and African Ministers set the target of India-Africa bilateral trade as US $ 90 bn by 2015. In the year 2011, India-Africa bilateral trade has reached US $ 60 bn.

The Ministers agreed on the need to strengthen the trade relationship between the two sides through, inter-alia, the building of trade-related capacity and the conclusion of trade cooperation agreements between India and African Regional Economic Communities (RECs) / countries. "Our leaders had set a target of US$ 70 billion by 2015 but we can note with satisfaction that last year we crossed US$ 60 billion.

A 20-fold growth within a decade is indeed an achievement worth applauding. I propose that given the current growth rate, we may agree to revise the trade target to US$ 90 billion by 2015," said Shri Sharma.