Dow Corning opens new BTC in Singapore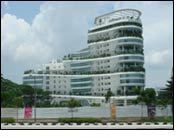 Dow Corning, a global leader in silicon-based technology and innovation, inaugurated its new Business and Technology Center (BTC) in Singapore. The event is a significant step towards the company's sustained efforts to meet growing customer needs for silicone products and services in an emerging economy such as ASEAN/ANZ. The facility will provide state-of-the art research and development support for innovation and sustainability initiatives throughout the fast-growing region.

The BTC will be staffed by scientists, engineers, marketing and sales and business support professionals whose goal is to help local industries accelerate innovation and sustainability through silicone- and silicon-based products that are unique to the region. The ASEAN/ANZ region consists of Dow Corning's presence in Indonesia, Malaysia, Singapore, Thailand, The Philippines, Vietnam; and Australia and New Zealand. The increasing regional needs for sustainability through silicone innovation necessitated Dow Corning to establish a BTC.

"It is a very exciting time for us. This new center is a demonstration of Dow Corning's commitment to growing the region's economies, improving quality of life for its citizens, and ensuring a sustainable future for us all. The BTC would enable Dow Corning to extend our current product and service offerings as well as provide required support and expertise to meet innovation needs."

"We are also committed to inclusive growth with businesses and local communities. Our lab facility at the BTC will not only be involved in the applications development but would also serve as the innovation center for all regional requirements", said Scott Fuson, Dow Corning's President for ASEAN ANZ.

"At Dow Corning, we believe in sustainability. ASEAN ANZ offers a large pool of scientific talent that we will rely on to develop more advanced and sustainable solutions as we expand our relationships with local businesses and communities."

"The demand for silicon-based materials in a wide range of new and emerging applications is growing in the region. We are very confident that our focused efforts will continue to bring innovative silicon-based technology into applications that will enable us to meet the needs for a sustainable future," said Ian Wilson, Dow Corning's Executive Director and Vice President – Geographies, on this occasion.

Located in Solaris Fusionopolis, Singapore's R&D hub for Physical Sciences and Engineering in western Singapore, the BTC was designed to reflect Dow Corning's commitment to sustainability and innovation. Prior to its official opening, the building has already been recognized by Singapore's Building Construction Authority (BCA) as having internationally recognized best practices in environmental design and performance, and was awarded the BCA Green Mark Platinum.

The diversity that silicone applications offer, find their presence in all facets of our daily life. Silicones and silicon-based materials and applications are used to enhance performance of products in almost all industries operating in ASEAN/ANZ, including automotive, construction, electronics, renewable energy, textiles, personal care products and many more.