Rieter to highlight key product range at ITM in Turkey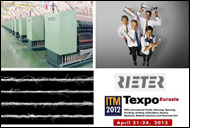 Rieter is represented at the ITM Texpo Eurasia 2012 with two stands and provides competent information on all 4 spinning systems and the optimally suited fiber and spinning plant preparation. Key machines from the Rieter product range as well as end products from the 4 Rieter yarns make a visit to the Rieter exhibition stands an extremely interesting and informative experience for all.

Only by an optimal coordination of the machines from the fiber preparation and the spinning preparation up to the end spinning process, is it possible to productively and economically achieve the required yarn quality at the highest level of flexibility. Rieter offers all these processes and competences from one source. At the ITM Texpo Eurasia 2012, Rieter is presenting highlights from its current product range and clearly illustrating how Rieter as a strong, competent partner makes life easier for its customers and supports them from the initial investment discussions through to the successful operation of a spinning plant.

The C 70 high-performance card achieves excellent quality values at highest production for all yarn applications. This is based on the well-proven 1.5 m working width and maximum active carding area. Focus is placed on the economic production of carded and combed ring yarns. Precise flats guiding and innovation in the pre- and post-carding area allow, with the selective waste extraction, an excellent raw material exploitation and sliver quality. With the integrated grinding system IGS, the sliver quality is maintained at a high level. By utilizing draw frame modules instead of the classical can coilers, the customer has the possibility to optimally layout the process.

The K 45 compact spinning machine is a further development of its successful predecessor, the K 44. With machine length up to 1 632 spindles, it sets standards for ideal compacting, machine length and economy. In addition, the K 45 offers greatest flexibility for quality yarns. Its superiority over other compacting processes has been further increased by additional technical spinning solutions for extended applications. The concept for the compacting system with perforated metal cylinders generates energy and maintenance costs substantially lower than with any other compacting systems.

Rieter supports customers in the choice of the right spinning process by its comprehensive technological expertise in all four spinning processes through to the textile end product. At the exhibition, Rieter provides information on the benefits of the 4 Rieter yarns by means of various end products and fabric samples.

A reliable partner supplying a complete range of wearing, technology and standard parts. Original spare parts from Rieter ensure optimal working behaviour, smooth operation and additional security. Innovative developments plus high-quality products subjected to rigorous controls and checks enable Rieter to meet customers' most stringentsafety and production requirements. Furthermore, Rieter's local warehouse facility will enable customers to plan their requirements and ensures quicker delivery.