SGL to buy Portuguese acrylic fibers producer Fisipe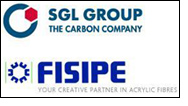 SGL Group – The Carbon Company – has signed a contract to acquire an 86% stake in the listed Portuguese company Fisipe – Fibras Sintéticas de Portugal S.A. – from the previous principal shareholder, Negofor.

Thus, SGL Group is expanding its production network for the supply of raw materials for carbon fiber production to include a production facility for precursors. The purchase price is approximately €25 million. At the same time, a mandatory public offer will be submitted to the Portuguese securities commission for the remaining shares in Fisipe. The closing for the transaction is targeted for the end of April 2012. Fisipe's top management will continue in leading roles in the company's operating business once the transaction is complete.

Dr. Jürgen Köhler, Head of Business Unit Carbon Fibers & Composite Materials: "As an integrated manufacturer of carbon fibers and composites, having our own supply of raw materials is absolutely essential in light of increasing quality and efficiency requirements as well as developing new fields of application for carbon fiber technology."

"This is why acquiring Fisipe is a logical strategic step toward strengthening our European precursor production base. Fisipe is a long-term partner with proven know-how in manufacturing acrylic fibers and has a modern production and research infrastructure with its own energy supply. We are securing this high-tech site in Portugal and can thus build on the expertise of the approximately 330 people currently working there."

With this backward integration, SGL Group – the only European integrated manufacturer of carbon fibers – is bolstering its technology base along the entire value chain, from raw materials to carbon fibers through to the finished composite. SGL Group currently produces precursors in its multi-sourcing strategy in joint ventures with Lenzing AG in the Bavarian town of Kelheim (SGL Group stake: 44%) and Mitsubishi Rayon Co. Ltd. (MRC) in Otake, Japan, (SGL Group stake: 33%).

These joint ventures focus on industrial grade carbon fibers (50K). With Fisipe, the company is tapping into an additional source of raw materials to produce other types of precursor, specifically the development of raw materials for low-tow carbon fibers (3K – 24K). SGL Group and Fisipe have recently collaborated successfully on development projects.

The textile fiber production lines at the site will be converted and gradually expanded to precursor production at low investment costs. Additionally, the facility will continue to manufacture acrylic fibers for special textile and technical applications. Fisipe has an extremely wellqualified workforce, its production capacity has scope for expansion and it also offers well-developed logistics. Due to the company's size and own energy supply, Fisipe also stands out for its high cost efficiency.

The quality of the precursor – the carbon fiber raw material based on polyacrylonitrile fibers (PAN) – plays a significant role in both the material properties of the carbon fibers and the cost of their manufacture. Depending on the fiber bundles, a distinction can be made between heavy tow 24,000 (24K) filaments per fiber bundle and more and low tow 12,000 (12K) filaments per fiber bundle and fewer. Standard carbon fibers for industrial use (industrial grade) are made up of fiber bundles containing 50,000 (50K) filaments.