Reliance Industries revenues up 31.9%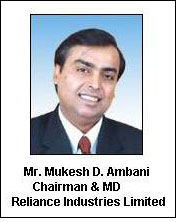 The biggest private sector company in India – Reliance Industries Ltd (RIL) which has interests from oil and farm to retail, reported record revenues of Rs 3397.92 billion ($66.8 billion), up a staggering 31.9 percent in fiscal 2011-12, from a year earlier.

However, its net profits grew marginally by just 2.2 percent from a year ago to Rs 197.24 billion ($3.9 billion). It also clocked exports of Rs 2080.42 billion ($40.9 billion), which is equivalent to 14% of India's overall exports in the previous fiscal year.

Commenting on the results, Mukesh Ambani, Chairman and Managing Director, Reliance Industries Limited said, "Our businesses have delivered industry leading performances. This is a reflection of the quality of our assets and growing demand for our products and services in India and internationally.

He added, "We have created a strong foundation for future growth and are investing in our core upstream and petrochemical businesses in India. Response to our organized retail business has been very encouraging and we continue to expand our footprint by building more stores across verticals, formats and geographies".

Petrochemical segment:
In March 2012, the petrochemical business of RIL was certified as a "Responsible Care Company" under stringent standards of American Chemistry Council (ACC), USA and in turn became the first Indian company to bag the honour.

During the year ended 31st March 2012, revenue for the petrochemical segment increased by 27.7% from Rs 631.55 billion to Rs 806.25 billion ($ 15.8 billion). Increase in volume accounted for 6.8% growth in revenue and increase of prices accounted for 20.9% growth in revenue. PX and PP were the largest contributors in terms of revenue growth for the year.

During the year, PX and MEG deltas improved due to unplanned shutdowns while PTA deltas suffered due to oversupply and weaker demand from polyester products. PFY and PSF deltas moderated from the record high levels achieved in 4Q FY 2010-11 and were impacted by the weakness in cotton prices. PET deltas improved due to good beverage demand on account of extended warm weather.

Domestic demand for polyester products increased by 2%, primarily due to robust consumption growth for PET. Heavy power shortage in south Indian states is impacting PSF consumption. POY is having steady growth at 3%.

During the year, production of fiber-intermediates (PX, PTA and MEG) increased by 5% to 4.8 million tonnes. Polyester (PFY, PSF and PET) production volumes decreased by 2% to 1.7 million tonnes due to changes in the product mix.

During the year, polymer business saw a mixed trend in terms of product margins with moderate domestic demand across key polymers. Polypropylene (PP), which is the largest part of RIL's polymer portfolio, witnessed margin contraction while PVC deltas improved.

PE deltas continued to feel the impact of the substantial capacity added in Middle East and China over last couple of years.