SA home textiles firm sticks to local production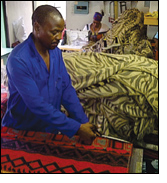 Over the last few years, many large local retailers, hospitality groups and interior decorators turned to the Far East in search of cheaper decor furnishing textiles, and a number of local textile companies, unable to compete with cheaper imports, were forced to close their factories.

But one decor furnishing textile company, Renecap, the holding company that trades under the brand name, 8th Avenue Trading, remained committed to the local industry and to the country and has emerged from the turmoil stronger than ever before, with a wider selection of exceptional quality textiles that are 100% locally produced - ensuring that local retailers and hospitality groups can rediscover the value and competitive offerings available on their doorstep.

"In line with government's drive to increase local procurement and given the closing of the price gap between local and imported textiles, as well as the flight to quality that is a fast-growing global trend, local buyers have an opportunity to reconsider their buying strategies and to find that companies such as 8th Avenue Trading offer great quality at affordable prices, right here on their doorstep," says Granville Essafrau, owner of 8th Avenue Trading, a family-owned and proudly South African business.

8th Avenue Trading has, for the past 40 years, manufactured and supplied diverse top-end decor furnishing textiles to the local and international retail and hospitality industries, as well as to the international furnishing, décor and accessory market.

"Local companies are now rediscovering what many other discerning markets overseas realised some time ago: the quality of substantially discounted, mass-produced decor furnishing textiles often leaves much to be desired, particularly when it comes to authentic and innovative African designs," comments Essafrau. "We believe that our unwavering commitment to absolute quality has been the reason behind 8th Avenue Trading's exceptional growth during some of the toughest years in the history of the local industry."

Instead of succumbing to the temptation of simply closing up the factory and importing low-cost textiles to sell at a higher price, 8th Avenue Trading adopted a different strategy. "Our strategy involved vertical integration and closer ties with local sources to allow us to buy, spin and dye the yarns in-house. We invested in state-of-the art machinery and established our own design facility, working closely with a talented and skilled team. We also employed more people and trained them rigorously," explains Essafrau.

"As a result, we have access to new types of yarns, including micro-fibres, and the equipment and skills to transform these into exciting new textures and textiles that in some cases are better than international quality standards that interior decorators and other decor furnishing textile buyers are now inspired by. In addition, we can create and innovate authentic African designs across a range of product lines, as well as unique designs for specific brands and groups - something Far East countries and other mass-producers cannot offer."