Dell'Orco & Villani launches TCO/1500 Twin Carding Opener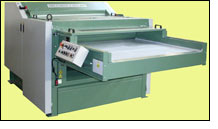 Dell'Orco & Villani S.r.l. is a well known Italian manufacturer of fiber blending and textile waste opening equipment. Recently has introduced a family of special machines for the opening of difficult materials such as spunlace, spunbond and air-through nonwovens, kevlar fabrics, carpet yarns, glass and carbon fiber fabrics, needlepunched carpets, etc.

The most performing machine of this family is the Twin Carding Opener TCO/1500 that joins very high quality performances with great energy savings.

Its special configuration is based on two drums that work in tandem, each one equipped with a number of peripheral working rollers, all drums and rollers are clothed with rigid wire and all their motors are controlled by five frequency inverters so that their speeds can be varied independently from each other according to the characteristics of the material being processed.

According to the company, the different combinations possible for wire clothing choice and the speed options in addition to the possibility of setting the distance between rollers and main cylinders enable a great flexibility in the machine's applications, allowing opening of a range of nonwovens production waste — even that which usually cannot be processed on comparable machines on the market.

The TCO/1500 Twin Carding Opener is available in 1,500-millimeter (mm) working width, and can be fed either manually or by a chute feed or regular hopper feeder.

The machine uses only 15-20 percent of the power usually required for comparable operations; offers high productivity (350-500 Kg/hour); and has a low footprint.

Dell'Orco & Villani S.r.l.