European debt crisis may jeopardize cotton market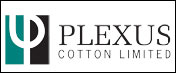 Plexus Cotton Limited reported that New York (NY) futures continued to fall this week, as July dropped another 517 points to close at 76.65 cents, while December gave up 547 points to close at 73.90 cents.

Since closing at 92.62 cents on April 23, the market has dropped nearly 1600 points in a little over three weeks and it is still anybody's guess as to where this steep slide will finally come to a halt.

Looking at the long-term chart, the market has now come full circle and is back to about the same level from which it started its epic bull run two years ago. As you may remember, the December'10 contract began its historic rally from a base of around 74.00 cents in July 2010.

Unfortunately the statistical picture looks a lot worse today than it did in July 2010. Back then the USDA predicted a world crop of 116.0 million bales, which is not a lot different than the estimated 116.7 million bales for the coming season. World use on the other hand was expected at a much higher 119.7 million bales two years ago, while the forecast for next marketing year is at just 110 million bales.

However, the most dramatic difference between the two USDA snapshots is found in global ending stocks, which are projected to rise to 73.7 million bales in the coming season, or 23.8 million bales more than in July 2010. That's like having an additional US and Australian crop do deal with! Even inventories outside China are reflecting this bearish picture, as they are projected to amount to 14.4 million bales more than two years ago. Any which way we look at the current statistical picture, it's not a pretty one for the longs!

While mills were struggling during last year's bull market, it is now the growers who are finding themselves on the wrong side of the market. After many producers have seen their input cost go up to some 65-70 cents/lb in recent years, the current market price does not yield much profit anymore.

What a few weeks ago still amounted to a potential profit margin of 20-25 cents has since melted away to just 5-10 cents in many cases. Growers, who are far behind the curve in regards to forward contracting this season, were the most active group of sellers in New York over the last couple of weeks as they desperately tried to lock in these rapidly dwindling profit margins. Unfortunately there are still a lot of growers out there who are unprotected at this point, which is why we believe that the market will not be able to rebound much from current levels. Every time the market offers a spike in prices, it will likely be met by another wave of grower selling.

Outside markets are not offering any help to the cotton market either at the moment. Quite to the contrary! Since 2008, the four major central banks (Fed, ECB, Bank of Japan and Bank of England) have boosted their combined balance sheets from around 3.5 trillion dollars to 9.0 trillion dollars and injected unprecedented amounts of liquidity into the world's financial system via a variety of programs and schemes.