NY cotton futures extend decline this week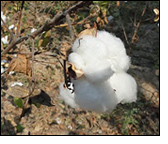 Plexus Cotton Limited reported that New York (NY) futures extended their decline this week, as July fell another 271 points to close at 73.94 cents, while December dropped 323 points to close at 70.67 cents.

The market continued to cave in as heavy options-related selling (put buying/call selling) depressed values to a low of 70.53 cents in July, which means that the market was trading an astonishing 22 cents lower than a month earlier.

The steep declines on Tuesday and Wednesday had the characteristics of a panic-driven capitulation move, which often marks a tradable bottom.

The selling seemed to be driven by a combination of grower hedging, spec selling and trade long liquidation. When we analyzed the latest CFTC report, which lists positions as of May 15, we noticed a rather large increase in new trade longs of over 17'000 contracts.

The majority of these new longs were probably created by short puts that the trade had written, as they quickly gained 'long delta' when the market fell from around 87 to 77 cents that week.

On May 15 there were around 48'000 July and 36'000 December puts open with strike prices between 70 and 90 cents. As traders scrambled to defend against this avalanche of unexpected and unwanted new longs, it caused the market to cascade lower.

Last week we were of the opinion that the market would probably regain its balance of power near 70 cents and we still believe this to be the case. Most traders who were on the wrong side of the market with their short puts should have contained their damage by now and growers are less likely to aggressively add hedges once the market dips below 70 cents.

At the same time we are finally seeing some mill interest at these levels, even for extended coverage.

Today's US export sales report gave the bulls something to cheer about after all the doom and gloom, as 239'000 running bales of Upland and Pima were sold last week for both marketing years combined. Once again there were 15 markets on the buyers' list, with China leading the way.

Shipments were also very good at 282'300 running bales. For the current season total commitments are now at around 12.4 million statistical bales, whereof 9.2 million bales have so far been exported.

Although we may get a few short-lived bounces here and there, most analysts seem to agree that 2012/13 has to be written off as a 'lost season', with little hope for prices to recover substantially from current levels.

The problem the market is facing is that Northern Hemisphere crops are for the most part planted and that we probably have to live with an abundance of cotton for at least another year.

However, when we project deeper into the future, there are some developments that lead us to believe that cotton prices won't stay cheap forever. Until about six or seven years ago, there was an oversupply of just about every agricultural commodity, be it wheat, corn, soybeans or cotton.