Sports make up for major part of BASF product portfolio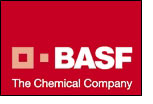 Many BASF products and solutions come into play at major sporting events. Examples range from infrastructure projects in host countries to sporting apparel and nutrition for athletes.

Preparations in Poland and Ukraine – the hosts of this year's European soccer championship – are nearing completion. A large number of BASF construction chemicals have been used in the various construction projects, including concrete admixtures, protective coatings and thermal insulation systems, for example for building and repairing streets and bridges.

Major road construction works involving the use of BASF concrete admixtures include the extension of Polish freeways 1, 2 and 4, national route S7 and the construction of the North Bridge over the Vistula River in Warsaw.

Supporters will be flying in from all over the world to support their teams, so it's not just the roads that need to brave the onslaught of soccer fans. Emaco repair mortar and Masterseal coatings were used in the construction of a new terminal at Boryspil Airport near Kiev, Ukraine, for instance.

Stadiums, hotels, training centers and catering facilities have been newly built or expanded. BASF concrete admixtures allow for shorter construction times coupled with maximum concrete quality and stability.

Outstanding stadium architecture calls for exceptionally high quality products. Conventional thermal insulation poses problems because of the buildings' exterior form.

That is why BASF's Multitherm HSV insulation system was chosen for the national stadium in Warsaw, Poland. The product insulates the stadium from the interior rather than from the exterior (the conventional method) for maximum energy efficiency.

Other parts of Polish and Ukrainian soccer stadiums containing BASF solutions include the flooring systems and playing surfaces. BASF products were used for caulking the grandstands and foundations of Warsaw's National Stadium and the stadium in Poznan, western Poland.

Pozzolith 100 concrete admixture and Conipur M sports surface were used for conversion of the Olympic Stadium in Kiev.

The althletes wear high-tech solutions right next to their skin. Soccer shoes are composed of more than 30 different parts. A key component is Elastollan, specialty polyurethane supplied by BASF Polyurethanes.

It is used in soles, toe guards, stiffener and absorption elements and helps to make shoes more flexible, lightweight and sturdy. Sporting apparel such as soccer shirts contain an intermediate called PolyTHF, an important component of stretchy elastane or spandex fibers.

BASF also produces components for functional textiles including thermoplastic polyurethanes (TPU) for breathable sports and leisure textiles and Ultramid, a polyamide with a light protection factor of up to 80 to block out the sun's rays.

After the game is before the game, so the players have to take care of their health continuously. BASF vitamin supplements in fruit beverages and sodas contribute toward a balanced diet.