Piave Maitex to show knitted fabrics trend for F/W 2013/14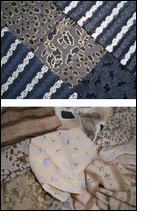 The new proposals Piave Maitex S.P.A. Fall-Winter 2013/14 will be previewed in a special event taking place in Italy on June 28, 2012 and then again, this time worldwide, in Interfiliere Paris – July 7, 2012. As always they include a wide selection of new fashion and hi-tech fabrics. The outfit is completed by the brand new printed fabrics collection.

New Fabrics: New Proposals For Underwear – "Oversexy", "Peau D'ange", "Darling, Tonight!"

The inspirational theme was: "The sensuality of Lingerie". We have created Jacquard Bands, refined and elegant,technical and shapewear in the Oversey line, light and transparent in the line Darling Tonight! to be used in composé with plain and jaquard or also the new high gauge microfibers of the Peau D'Ange line.

The result is an extremely sensual Lingerie, young and comfortable, complemented by the proposals in natural fibers such as cotton, to better recreate the elegant atmosphere of the roaring twenties and in particular of the "The Great Gatsby".

New Fashion Proposals– "Diamond" Line, "Wonderland" Line
The themes developed in the new Fashion lines were: "The Light" and "The pencil stroke". In the Diamond line this resulted in a series of new iridescent fabrics, vaguely retrò, sensual for the eroticisism of colours, from intense pink to passional red, as well as floral jacquards in deep shades of blue.

In the Wonderland line we have developed a range of soft and performing fabrics, inspired by the contemporary virtual design, jaquards with modern graphics, tactile, linear, up to the revival of the scottish motifs, back in the limelight, re-interpreted in a modern black and white classic or in bright fashion colors.

New Proposals For Sportswear, Leisure And Active Lingerie – "Move!" Line
The chosen theme here was "Warm&Soft". Our proposals are therefore soft and warm fabrics with brushed, fleece-like effects in bright colors, smoothly attractive geometric nets and jacquards, all with high technical performances and part of the "Move!" Line.

Our research in the field of moisture management and comfort for the body in motion has led to increasing development of the unique technology PM HYDROFRESH, our special application for the well being.

High-Tech New Proposals For Cosmeto-Textiles And Moisture Management
We have created a new range of high performance fabrics through the application of cutting edge technologies, such as the use of infrared ( FIR) rays naturally emitted by the human body, in the treatment of skin elasticity, appearance and cellulitis, with beneficial effects on thermoregulation and enhanced sport performances.

Aside our existing range of smart fabrics we now designed and implemented the effect of moisture management fabrics also for cotton, keeping the skin dry, transporting sweat/humidity outwards, favouring its rapid elimination, improving well-being and sport performance.