Bremen Index restrainedly pursues NY cotton futures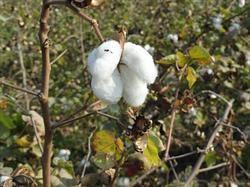 Bremen CIF Index reports that the New York Cotton Futures rose during the reported week just in line with competing crops, yet not reaching the levl of previous weeks. The large volatility continuously unsettled the markets; particularly since the basic situation has not considerably changed on the consumption or on the production side.
The CIF Bremen Index pursued New York only restrainedly. Individual orders for short-term need were still placed, but basically the necessity to satisfy the demand during the summer months seemed to be decreasing.
The months following the company holidays as well as the new crop from the European producing countries became the focal point of interest on the local market.
Turnovers in the medium staple range were achieved by cotton from West Africa for prompt delivery up to the 4th quarter 2012, CIS for the 2nd quarter, Brazil for the 3rd quarter as well as Greece and Spain for the 4th quarter 2012 up to the 1st quarter 2013.
The following LS-/ELS-cotton were traded: Giza 86 and Giza 88 for prompt delivery and the end of the 2nd quarter as well as Israel Acalpi for the 3rd and 4th quarter 2012.
Bremen CIF Index