Tajikistan cotton exports dip marginally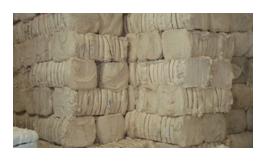 Exports of cotton from the CIS state of Tajikistan decreased marginally by 2.3 percent during the initial five months of the current year, according to the state customs service.
During the January-May 2012 period, Tajikistan exported more than 63,700 tons of cotton, mainly to Turkey, Russia, Latvia and Iran.
Tajikistan's cotton exports during the review period were worth US$ 110.5 million, which was US$ 2.7 million less than exports made during the corresponding period of last year.
Fibre2fashion News Desk - India