Lenzing extends Pulp Cooperation with Sappi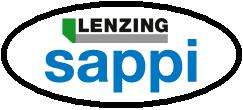 Lenzing AG, global market leader for man-made cellulose fibers, is intensifying its longstanding cooperation with the paper and pulp group Sappi.
Both companies have concluded a multi-year pulp delivery contract at comparable terms and conditions with pricing linked to paper pulp as in the existing supply contract. The agreement is related to the construction of new dissolving pulp capacities by Sappi.
Sappi is the world's largest manufacturer of dissolving pulp with an annual capacity of 800,000 tons at present growing to 1.3 million tons. Dissolving pulp is used in producing cellulose fibers, amongst other purposes.
The raw material is wood mainly derived from certified eucalyptus plantations. Lenzing has already been sourcing high quality pulp for its non-integrated fiber production plants in Indonesia, China, Europe and the USA for several decades, including from the Sappi Group.
Lenzing AG