Robert Rauschenberg's 'Jammers' on display in London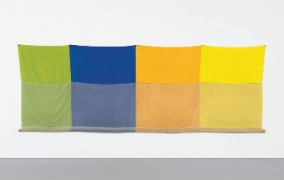 Paying homage to the late American painter and graphic artist Robert Rauschenberg, an exhibition celebrating his lesser known textile-based creation 'Jammers' is starting from today at London's Gagosian Gallery.
Named after the Windjammer sailing vessels, the artist had created the Jammers series to welcome his move from New York City to Captiva Island in the early 1970s.
The geometrically abstract piece of work features stitched colourful cotton, muslin and silk fabrics attached to rattan poles or hung directly on the walls.
The simple and light piece of work highlights the transparency of veil-like fabrics that have been given sculptural shapes with the help of cloth-covered poles or other hard objects.
Jammers was inspired by the artist's brief stay in India, where he learnt about Indian textiles and papermaking.
Fibre2fashion News Desk - India