Chinese textile & garment exports rebound in Jan'13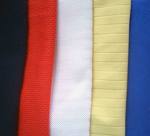 China's textile and garment exports fetched US$ 24.7 billion in January 2013, registering an increase of 14.74 percent year-on-year, much higher than the mere 2-3 percent year-on-year growth witnessed in 2012.
On a month-on-month basis, January textile and apparel exports grew by 2.5 percent.
Experts attribute the sharp rise in exports to shipments made in advance by exporters, ahead of the Spring Festival in February.
Fibre2fashion News Desk - China