China will release cotton from state reserves till July 31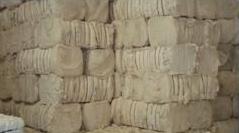 The China National Cotton Reserves Corporation and the National Cotton Exchange have jointly announced that as decided by relevant departments, the current round of cotton release from state reserves would continue till July 31, 2013.
The statement said that policies related to cotton release would be properly regulated in order to better meet the raw material needs of textile enterprises.
In addition to release of old cotton reserves, the Government would also release some cotton imported in 2011 and some cotton temporarily purchased in 2012.
As of April 17, the cumulative cotton supply released from state cotton reserves reached 4.2 million tons, but the total turnover was only 27.67 percent at 1.162 million tons.
Fibre2fashion News Desk - China