Fix minimum support price of cotton: CAI tells Indian govt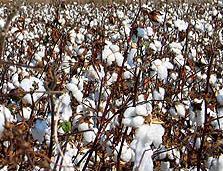 The Cotton Association of India (CAI) has called on the Central Government to immediately fix the minimum support price (MSP) for cotton.
Given that cotton sowing has already begun in the north zone and around 60,000 bales of cotton is reaching market yards each day, the Government should at once step in and fix the MSP for cotton so as to help farmers to make pricing decisions, CAI President Dhiren N. Sheth has said.
According to a Hindu Business Line report, in its April estimates, CAI has pegged the crop output for the 2012-13 season at 35.20 million bales, and total cotton supply at 42.02 million bales.
Meanwhile, domestic consumption has been pegged at 27.8 million bales, which would result in a surplus of 14.22 million bales.
Fibre2fashion News Desk - India