ICE futures bounce back this week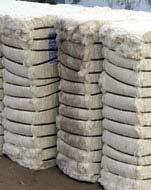 ICE futures rocketed back above 85.00 this week as a 7-handle on the front contract prompted strong buying interest from physical traders. US exports were strong this week despite the dwindling amount of available cotton for sale, and foreign growths have been selling rapidly into China as well.
US plantings accelerated this week and western Texas got more rain, while China is contemplating major changes to its cotton market policy (likely in 14/15 rather than 13/14). Nonetheless, the long talked about limited availability of cotton in the world ex-China in Q3 is finally materializing, which should support the market.
The US May jobs report came out this morning and it was moderate enough to prompt a bounce back in equities, which had been selling off of late. The jobless rate went up enough to slow down the idea that the Fed will begin "tapering" (slowing asset purchases) this summer – as always, their policies are dependent on future readings of the economy.
"Abenomics" has temporarily fallen out of favor with the yen climbing again and the Nikkei losing most of its recent gains. While the sugar high could yet continue for a while, the beginning of the end seems to be within view
ECOM USA