Thai Textile Society reschedules cancelled embroidery show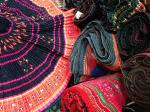 The Thai Textile Society announces the rescheduling of the cancelled November 2013 Event. This rescheduled Collector's Corner EMBROIDERY OF REGIONAL MINORITIES will be at Ayoraya Gallery, presented by owner Khun Chomporn Dhanesnittaya, 7 June 2014.
Embroidery has been used to augment the clothing of people the world over. Khun Chomporn Dhanesnittaya has an impressive collection of embroidered textiles belonging to tribal and minority groups in Central and Southeast Asia, including the exotic Naga people of Myanmar and the Miao.
A variety of materials were used to adorn these garments and bags, applying beads, natural seeds and sea shells to both silk and cotton. Khun Chomporn will tell us of the origins and techniques, patterns and symbolism used on these colorful and unusual pieces.
Thai Textile Society