ICE Cotton Futures further decline this week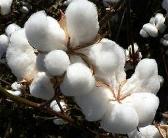 Forget about talk of a bounce anytime soon. This week was yet again another downer in the market, with today's settle at 65.35. We have been on a long slide to the downside since the May 5th close at 84.53. Prices bounced around a bit between 76.00-78.00 in June and stalled a bit around the 68.00 last week and most of this week. However, yesterday we saw a major market move.
At around 9:00 AM central time a large market order to sell 1,200 lots drove the market through some sell stops, which caused the market to fall to 66.25. Stronger selling came to the market at around 11:30, driving the market to 65.60. Selling pressure continued today and December closed 70 points down. Looking at the charts you see that we are in a bit of a no man's land. We haven't been this low for a long time.
In fact you have to go back to October 2009 when the market closed at 59.64 to find some kind of point of interest. Talk of the market in the 50s is starting to float around the trade, which ultimately may be a self-fulfilling prophesy.
Also keep an eye on the December- March spread, something we've been watching for weeks. There is a lot of demand at 99 points March over and we expect to see that demand moving forward.
ECOMUSA