Les Naturelles offers effective solutions for main skincare concerns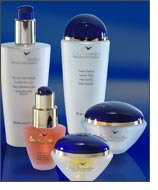 Les Naturelles – the Jewel of Swiss Cosmetics:
Les Naturelles – the jewel of Swiss Cosmetics – offers specialized product ranges which are specially made to suit the needs of every user. Offering effective solutions to for main skincare concerns the Les Naturelles product range is based on in depth knowledge, research, technical expertise, professional efficiency and conscentiousness.

The cosmetics are biodegradable and manufactured with harmless, non-animal derived ingredients. They do not contain mineral oil and the raw materials are usually obtained from renewable vegetal sources. The use of completely natural and effective ingredients in their optimal concentration ensures visible results and a very high skin tolerance.

Any substances which are potentially comedogenic, photosensitive, irritant or likely to have other undesirable effects are never used in the products. The fragrances are obtained from natural essential oils or from perfume oils which comply with the code of practice recommended by International Fragrances Administration (IFRA).

Seduction of a Velvety Skin:
Effortlessly create the look of your desires. Nvey's luxurious high performance foundation that is ideal for photographic work, the stage, bridal and evening glamour. With a velvety texture and full coverage for long lasting perfection, Crème Deluxe is available in seven shades and is ideal for everyday use. A make-up base for artists, professionals and consumers alike, Nvey Crème Deluxe Foundation is a pleasure to use and wear.