Craftsmen display exquisite art at Panaji expo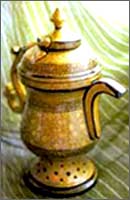 Panaji, the capital of Goa, a small and charming city is ready for a handicraft and handloom exhibition at Gasper Dias Club. The Creative Eye Society is initiating this fair.

It's going to be a one stop shopping experience for all the visitors. As the artisans from all over the country will be displaying their art and craft. Over hundred stall would be under one roof.

A range of furnishing products for the interior as well as exterior home décor will be available here. The collection varies from wooden furniture to jewelry to lifestyle products, along beauty and health-care items. Kids also have a reason to cheer, as there will be toys, watches and garments for them. There are end numbers of products to watch out for.

Goa will for the first time experience the work of highly acclaimed craftsmen. The marble temple from Uttar Pradesh, chickan work bed sheets, wrought iron art, Kashmiri metal craft, shawls and dress materials, colourful kurtas from Delhi, jute artifacts from West Bengal, embroidered bed sheets, all will be accessible under single roof.