Monforts redesigns new compressive shrinkage sanforisor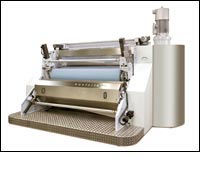 A completely new redesigned compressive shrinkage sanforisor for both woven (Monfortex) and knitted (Toptex) fabrics is introduced by A. Monforts Textilmaschinen, offering increased residual shrinkage, higher production speeds, automatic grinding of the rubber blanket, reduced water consumption for cooling and substantial time savings for blanket changes.

The new redesign also allows faster rubber belt changes taking just a single shift compared with two days for industry standard. The simplified belt removal is accomplished by an integral lifting device to lift the rollers instead of their complete removal.

With the necessity of grinding the belt at least 5-6 times throughout its life, a new automatic grinder ensures only a minimum of rubber is ground thereby increasing the efficiency and life of the belt.

It also eliminates the need for a skilled craftsman/operator in manual grinding techniques.

The new sanforisor also offers simplified and faster installations with improved access for maintenance procedures. All steam and water connections, for example, are centralised, eliminating the 'plumber's nightmare' with a streamlined installation.

This, together with filtration and recovery techniques of the used cooling water on the shrinkage range has provided a conservative use of water, resulting in a 40% reduction in water consumption of cooling water. For minimised water consumption only water lost by evaporation or absorption by the fabric has to be topped up.