Kamdar retail takes pride in setting trends for textile sector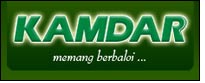 Since opening its first store in Ipoh in 1950, Kamdar, which specialises in textiles and haberdashery, has come a long way. Now, it is a listed entity in Bursa Malaysia, and has a burgeoning franchise.

Question: What is Kamdar's core business at the moment, and what does it offer as a franchise?
Jayesh R. Kamdar: Kamdar is one of the leading textile retailers in Malaysia and continues to set trends in the textile industry, with its attractive and modern outlets. Kamdar liases with designers to produce the latest collections in casual-todressy, modern and traditional clothing.

But it doesn't stop there. Kamdar has extended its merchandise lines to include home furnishing, luggage and related accessories. Kamdar was built on three generations of textile entrepreneurs and has now embarked on franchising, which will be a new chapter in its 34-year history. We are looking for dedicated, dynamic and passionate people to share this highly rewarding experience.

Q: But why franchise? Kamdar is already present in almost major cities every state in the country.
JRK: We already have 23 self-owned outlets in all major cities in Malaysia, except Perlis, Negeri Sembilan, Sabah and Sarawak. Now, we are targeting satellite and secondary towns to capture the rest of the untapped suburban market. Franchise is the new way to organic growth. We want our brand to grow. And managed well, franchising creates a winwin situation for both franchisor and franchisee.

Q: When did the authorities first approve the Kamdar franchise?
JRK: It was at the end of the first quarter this year. But before that, we had already made preparations in anticipation. It has taken us about three months to get our franchise team in order.