Mr. McClendon to lead NCC in 2008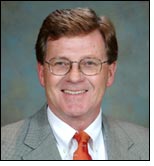 Larry McClendon, a Marianna, AR, cotton ginner, was elected chairman of the National Cotton Council (NCC) for 2008. Named during the NCC's annual meeting here, he served as the NCC's vice chairman in 2007 and succeeds John Pucheu, a Tranquillity, CA, producer.

McClendon, who is president and manager of McClendon, Mann and Felton Gin Company in Marianna, also operates a cotton and grain farm in Lee County and serves on the board of Staplcotn cooperative.

Active in national, regional and state associations, he is past president of the National Cotton Ginners Association, Southern Cotton Ginners Association and the Arkansas Agricultural Council. He has served on numerous NCC panels, including chairing both its Budget Committee and Marketing Loan Working Group in 2007. He currently chairs the NCC's Farm Policy Working Group and is a member of its Doha Strategy Task Force.

The recipient of numerous industry awards, McClendon was the 2002 Southern Cotton Ginners Association Ginner of the Year and in 2003, he received the Horace Hayden National Ginner of the Year award. In 2006, he received Cotton Grower magazine's Achievement Award, in recognition of growers who are outstanding innovators, sound stewards of the environment and leaders in the cotton industry and their communities.

A University of Arkansas graduate, Larry is a deacon of First Baptist Church of Marianna and currently is serving on the Board of Trustees for Baptist Hospital Systems in Memphis. He and his wife, Betty Jo, reside in Marianna and have a daughter and a son.