IFAI Tent Expo 2009 to develop industry relationships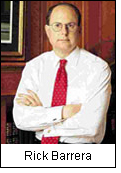 Tent rental industry leaders traveled from around the world to attend the IFAI Tent Conference 2008 Jan. 24-26 in Long Beach, Calif.

The confererence shocased 22 exhibitors, and more than 150 attendees participated in the speaker sessions, the networking and the camaraderie.

"The warm welcome received from everyone set the tempo for great networking sessions. I look forward to IFAI Tent Expo 2009 to continue to develop industry relationships," said Hartwig Birszwilks of Julius Heywinkel GmbH, Germany.

Nationally-known branding expert, consultant and speaker Rick Barrera was the keynote speaker. Barrera explored the failings of the cliché "Under-promise and over-deliver," from his best-selling business book, Overpromise and Overdeliver: Secrets of Unshakable Customer Loyalty.

"In crowded market, that strategy is a one-way ticket to oblivion," Barrera said. He demonstrated how changing that strategy to "over-promise and over-deliver" has allowed a number of cutting-edge firms to build breakthrough brands in record time - all while creating unshakable customer loyalty.

Leslie Haddad of Herculite Products was a return participant in the IFAI Tent Conference. "I come to IFAI Tent Conference to find out what the future of the tent rental industry is. I want to learn global market trends and change with them, and learn new ways to do business," Haddad said.

The TRD Life Safety Task Force introduced its new "Training for the Tent Installer" program to Tent Rental Division members.