New Materials for protective equipment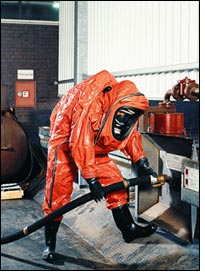 Industrial textiles are materials of the future. And they are ideal for a whole variety of uses. ContiTech Elastomer Coatings will be demonstrating the exceptional versatility of their materials at the TechTextil North America show (in Hall A, B, C & D, Booth 1434) which is being staged at the Atlanta exhibition grounds from April 1 to 3, 2008.

Special focus will be on various materials for protective clothing. ContiTech Elastomer Coat-ings is presenting new materials for personal protective equipment featuring highly resistant, media-impermeable barrier layers for optimum protection against chemicals and gases. What's special about the ContiBarrierSystem is its superb combination of elastomeric com-posite materials and an embedded ultra-thin layer of polymer.

The barrier system gives the material increased impermeability to virtually all gaseous, fluid and solid media. Even haz-ardous substances, such as chlorine, chlorinated hydrocarbons and ammonia are unable to penetrate the barrier layer. A high resistance to acids, lyes and aggressive chemicals, plus an excellent tear resistance, means that the materials are capable of ensuring best possible safety for the wearer. Thanks to ContiTech's latest technological advances, it is now possible for the first time to combine these new enhanced product features with extremely thin, flexi-ble and haptically pleasant composite materials from ContiTech.

The ContiBarrierSystem is designed primarily for usesin personal protective equipment and diaphragm materials. ContiTech Elastomer Coatings is a leading supplier of protective cloth-ing materials for civil and military applications.