Nanosphere combines high performance & ecological safety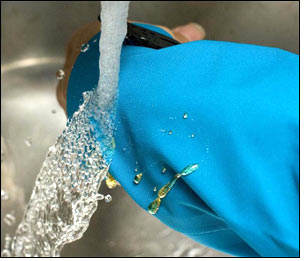 Following the announcement of the strategic distribution partnership between Schoeller Technologies AG (NanoSphere patent owner) and Clariant International Ltd. last September, the finishing components have now also aligned within the new cooperation. The new NanoSphere finish achieves top results in terms of the self-cleaning effect, oil and water repellency, abrasion resistance and washing permanence. Due to the use of the most modern C6 fluorocarbon technology, NanoSphere is also free of PFOA and PFOS. This combination of highest performance and highest ecological safety reinforces a worldwide unique position for the product developed in Switzerland.

A generation for the future - For the new NanoSphere, the research team from Clariant and Schoeller have combined the latest technologies and developed a product that meets the highest requirements in everyday use and is geared to meet the environmental requirements of the future. Through the use of future considered C6 fluorochemicals, the NanoSphere finish is free of PFOA and PFOS.

Due to the new recipe and nanoparticle mix, it still achieves an extremely high level of water and oil repellency and meets the most demanding washing and dry cleaning requirements. The finish is highly abrasion resistant and the protective function remains lastingly active, even when exposed to considerable load and after frequent washings.

The highest ecological safety - The new NanoSphere finish also meets the challenging specifications of the bluesign standard. (www.bluesign.com). According to Peter Waeber, CEO of bluesign technologies ag, it is particularly important in the context of nanotechnology to offer a "controlled and controllable product." For example, a specially developed coating matrix ensures that the millions of nanoparticles on the fabric's surface cannot come adrift. As such, there is no danger that they will dissolve during washing, dry cleaning or ironing. In addition, today's nanoparticles are thermostable up to 1700°C.