Cotton crop estimate unchanged in June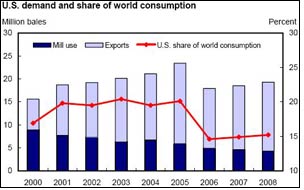 U.S. cotton production estimates for 2008 were unchanged this month at 14.5 million bales, which is 4.7 million below the final 2007 crop. An update to cotton area will be issued at the end of June in the Acreage report; this report will combine actual plantings as of early June with estimates for any remaining cotton to be planted. Total supply, however, increased slightly in June as 2007/08 revisions pushed beginning stocks 300,000 bales higher to 10.2 million bales.

Meanwhile, total demand was also revised upward to 19.3 million bales for 2008/09, as exports were increased 500,000 bales, partially the result of shifting shipments out of the current season and into 2008/09. Exports are now forecast to reach 15 million bales in 2008/09, compared with the revised 13.9-million-bale estimate for 2007/08.

In contrast, U.S. mill use continues to be pressured by textile and apparel imports and slow growth in domestic retail demand. U.S. cotton mill use is currently estimated at 4.3 million bales for 2008/09, 300,000 bales below 2007/08 and the lowest in over a century.

The United States continues as an export-dominated market, with shipments accounting for more than 75 percent of the demand for U.S. cotton (fig. 2). Exports are expected to rise slowly for the third consecutive season, but remain well below the record shipments of 2005/06.

Meanwhile, U.S. demand as a share of world consumption is also improving slightly. In 2008/09, this share is projected to be near 15 percent, similar to the past 2 seasons but below the 20-percent average of the early 2000s.