Nigde weaves world's biggest hand-made carpet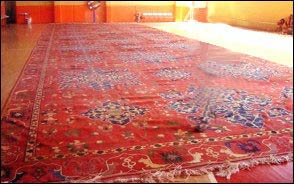 Turkey, known for its unique craftsmanship, has now created another niche for itself in the world of carpets. Nigde, a small province, in the southern part of Central Anatolia, Turkey, can now boast of weaving the biggest hand-made carpet in the world.

The exclusive carpet, woven with 2 tons of wool, weighs about 2,350 kilograms. Such huge amount of wool was acquired from 3000 sheeps. Six girls from the region were engaged to create this 25.50 meters in long and 6.75 meters in wide carpet.

It was told in a press meet that the carpet will be showcased in Istanbul for some time. Thereafter the carpet will be sent to Kuwaiti State Palace.