Handicrafts from Gujarat entice Bangalorians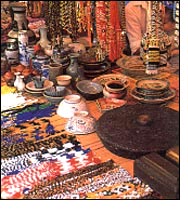 Gujarat Emporium in Bangalore has organized a handloom and handicraft exhibition which will continue till July 27 at Nagalakshmi Kalyana Mantapa. Artisans from different regions of Gujarat are displaying innumerable artifacts here that mirrors the rich and vibrant culture the State is famous for.

Wide range of products that are showcased here includes traditional garments which are made using different techniques like bandhini, tie and dye, batik, and block printing. Artisans have even done appliqué, embroidery, zari and mirror work to reflect their excellent craftsmanship.

Along with outstanding outfits, other items that are sure to become big hit among onlookers are wall hangings, stone and silver jewellery, hand made colourful and attractive puppet, Sankeda furniture as well as metal and wooden home décor products.

For those who like trendy and stylish products, there are bags, bedcovers, cushion covers and curtains in bright and bold colours.

This expo is one of the ways through which the organizers want to make Gujarati handicraft popular and gain wide acceptance.