Malaysian batik magnetizes visitors at Majlis Ilmu expo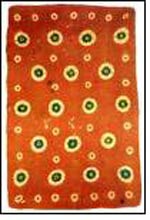 Majlis Ilmu or Knowledge Convention exhibition 2008 will continue to attract visitors till August 6 at the International Convention Centre (ICC), Berakas, located in North East part of Brunei. The centre is holding series of events including handicraft exhibitions and seminars.

Exhibitors from various nations are participating here and are receiving rave reviews for their wide range of products, which reflects culture and heritage of the country, they belong to. Artisans from Terengganu, Malaysia are also showcasing garments and other artifacts and are amazed at response they are getting from the visitors.

The craftsmen from Terengganu are also displaying batik outfits here, apart from 'songket' a 'gold cloth'. Songket is made of cotton and silk fabric that is interwoven with gold or silver threads. Although this attire is extremely expensive, it has become one of the highest selling items at the expo.

The stalls are displaying works of Malaysian batik, that is renowned globally for its interesting mix of colours and patterns, other than skirts, tops, sarees and home furnishing products. All the products are depleting quickly from the booths as they have become immensely popular among local visitors.

The exhibitors at ICC are also looking forward to venture into new business deals which will help their products get wider market.