Famous brands mixing East with West in style at CIFF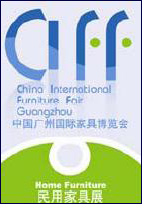 The 22nd China International Furniture Fair (Guangzhou) (CIFF2008 September) will be staged alongside Homedecor + Hometextile China at China Import and Export Fair Pazhou Complex B from September 8th to11th.

With the exhibition area of over 130,000, CIFF 2008 September attracts around 700 industry-leading manufacturers' participation.

And it experiences an increase in the number of preregistered visitors, which has grown by 14% compared to the last year's, reaches to 3,405, including 1,243 visitors overseas.

22nd China International Furniture Fair:
Specified pavilions driving more attendance and trading opportunities Modern and classical furniture is still the key topic of CIFF 2008 September.

To facilitate buyers' visit, the exhibition halls have been professionally segmented according to the product groups. Seven Halls in Pazhou Complex B are specified for modern home furniture.

For example, Hall 9.1, 10.1, 11.1 are set for soft furniture, upholstery & sofa. Well known brands like KUKA, RED APPLE, ZOUYOU can be seen in this area. Hall12.2 and 13.2 are arranged for panel furniture, solid wood furniture and hotel furniture.

The hotel furniture is especially displayed in the autumn session of CIFF as a new theme, which is a response to the fast growing demand of domestic hotel furniture procurement market.

Furthermore, Hall 13.1 is set for glass & metal furniture, while Hall 12.1 is planned to be a miscellaneous hall covering outdoor furniture as well.

Famous brands mixing the East with the West in style
"Branding and internationalization" are two highlights of modern furniture area of CIFF 2008 September.

Well known domestic brands include LANDBOND, HING LEE, KUKA, ZUOYOU, ROYAL, KINWAI, STEEL-LAND, RED APPLE, YABO as well as the overseas manufacturers like COLONO (Spain), OLE (U.S.A), U2LIVING (Australia), INDEX (Thailand), HOTTRAX, CHINFON, MARCOCO (Malaysia) and SITRA (Singapore), etc.

The presence of these international brands from all over the world will bring buyers with trendy styles in furniture market.

Comprehensive product groups with more diversified series Hall 9.2, 10.2, 11.2 are specified for classical home furniture, taking up over 30,000.

Product lines have been further enriched in this area, including European series, American series, neo-classical series and classical soft furniture series, as well as Chinese mahogany series and so on.

Domestic leading manufacturers like FUBANG, WONDERFUL, DINGFENG, FEILONG, DIYI, TIANYUAN, DAFENGFAN, YOUBONG, WENHUA, GAINWELL are attracted to show their latest products at CIFF 2008 Sep.

Homedecor + Hometextile China (Guangzhou):
Adhering to the exhibition management concept of "Whole-Home-Decor", Homedecor + Hometextile China is held in conjunction with the CIFF 2008 September.

As a complimentary show, Homedecor + Hometextile China hosts more than 200 exhibitors and its area reaches up to 30,000 ?,with 20,000? for home décor sector and 10,000 ? for home textile sector respectively.