We want to generate organic growth exceeding market growth levels - BASF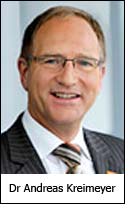 BASF's research units are its pulsating lifelines. The worldwide Verbund of creative thinkers is constantly producing new ideas and projects, driving forward the company even in economically difficult times. "The goal of our research is to expand existing technologies and markets and tap into new business potentials.

We want to generate organic growth exceeding market growth levels," emphasizes Dr. Andreas Kreimeyer, Member of BASF's Board of Executive Directors and Research Executive Director. With innovative products and tailored solutions for its customers, BASF is consolidating its leading position in the chemical industry.

With new or improved processes, the company is continuing to increase sustainability and efficiency in production. BASF's Research Verbund consists of the central technology platforms and the international network of research and development units of the business segments and group companies.

About 8,600 employees are involved in research and development projects at 80 sites around the globe. For 2009, BASF is planning research expenditures at the same high level as in the previous three years. In 2008, the company spent altogether approximately €1.34 billion on research and development.

As part of its research strategy, BASF combines the projects of its key technology-driven topics of future relevance in defined Growth Clusters. At present, these are the areas of Energy Management, Raw Material Change, Nanotechnology, Plant Biotechnology and White (Industrial) Biotechnology.

The research projects for these complex topics are to be driven rapidly to success through interdisciplinary cooperation. In 2009, more than €300 million from BASF's research budget will be flowing into future-oriented projects in these Growth Clusters. Investments totaling up to €1 billion in these key research areas are planned for the period 2009 to 2011.

Cooperation – the path to success:
"With the Growth Clusters, we have identified the important topics of future relevance that will contribute to solving urgent social issues," explains Kreimeyer. "But it will only be possible to address the challenges of the future through international and interdisciplinary cooperation. We therefore increasingly attach importance to cooperating with outstanding partners from science and business.

With everyone contributing their own strengths, we advance much more rapidly and create sustainable success," he adds. BASF is currently pursuing about 1,800 research cooperation's with partners around the world. In the plant biotechnology area, for example, the company is engaged in a collaborative project with the U.S. Corporation Monsanto.

The aim of this project is to develop higher yielding crops with improved resistance to adverse environmental conditions such as drought. In the nanotechnology field, BASF has founded a joint research initiative with Harvard University (Cambridge, Massachusetts) to study the formation of microbial bio-films on various surfaces and new formulations for water-insoluble active agents.