Velotex Xpress direct dye sublimation system for textile printing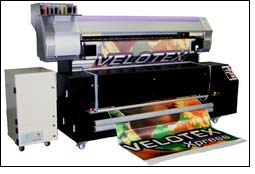 PrintVillage Inc and its digital dye sublimation division, US Sublimation, introduce the Velotex Xpress direct dye sublimation system for graphics, flag and banner production. A self-contained, single-step, affordable textile printing system designed specifically for the trade show graphics, sign and flag industries, the Velotex Xpress creates products that cannot be made with conventional printers, such as table coverings, double-sided flags and drapes.

The Velotex Xpress is easy to operate and as safe as an aqueous wide-format printer, with all the outdoor benefits of a solvent printer. The Velotex Xpress offers high quality, low cost, high margins, and environmental friendliness that is unprecedented in the outdoor/indoor market. With the Velotex Xpress, you no longer have to choose among price, color quality and environmental concerns as you do with vinyl. The Velotex Xpress creates products that have a better look and feel, a lighter weight and better wind resistance, making it the perfect display material.

Dye sublimation has been used in the textile industry for years, but it is relatively new in the digital sign and graphics markets. With dye sublimation, an image is printed using special inks on a carrier media, such as coated paper, and then infused onto polyester fabrics or a polymer-coated material via a heat press. Unfortunately, the technology remains the domain of a few pioneers who have invested significant time and money in learning the complicated process and purchasing the equipment. Common products manufactured through dye sublimation include customized sport uniforms, garments, fashion T-shirts, casino gaming tables, banners, trade show booth graphics displays, lanyards and flags.

In the signs and graphics markets, dye sublimation remains a premium offering that most shops outsource to wholesalers that specialize in this technology. However, the lighter weight, versatility, better appearance, and environmental friendliness of polyester fabric are making it the media of choice for trade show booths, pop-up displays, flags and banner production. More and more consumers are requesting polyester fabric, making it an indispensable offering for modern sign shops.

Two factors prevent most shop owners from bringing dye sublimation in-house. The first is the long learning curve and dye sublimation's reputation for being a complicated process to master. Horror stories abound about paper cockling, head strikes and tremendous waste. The second factor is the cost, since a typical textile printing system, including the necessary curing equipment, easily costs more than $65,000 - about twice as much as a good solvent-based system including the necessary peripherals, such as air purifiers and dryers.

"With The Velotex Xpress, our objective is to knock down the barriers of using dye sublimation and make textiles available to the whole wide-format industry," says Ken Bach, US Sublimation's channel sales director. "Why settle for less? We have a product that provides all the features that a sign shop requires, such as low price, high profit, high quality and green attributes, all in a system that is easy to use and doesn't need specialized labor. Considering the limited output of a typical printer, the Velotex Express has endless possibilities for the sign industry."