Cotton plantings to drop in coming season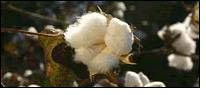 NY futures closed slightly lower this week, with March giving back 35 points to close at 49.71 cents, while December lost 48 points to close at 55.49 cents.

This week's trading range was one of the narrowest in a long time, as March moved within a 161-point band between 48.69 and 50.30 since last Thursday. After advancing by over 1200 points between November 20 and January 26, the market has started to soften again, following in the footsteps of a lower trending AWP (Adjusted World Price). The AWP will be set at 39.27 cents for next week, down 75 points from the current value, while the daily value is calculating at 38.91 cents.

Interestingly, the five cheapest growths are now all from Africa, with Tanzania leading the way, followed by the four West African quotes. With the exception of Tanzania these African quotes are likely to stay competitive for a while, since only about ten percent of their exportable surplus has been sold to mills so far.

The same is true for most other origins, as Central Asian countries are still sitting on their crops and India's government owns a huge inventory that sooner or later needs to be dealt with. In regards to the latter there were some rumors this week that the government may announce some export incentives before the election date is set later this month.

Even the US, which has captured the biggest share of global exports so far, still has a considerable amount of cotton to sell and ship. After adding last week's 94'100 running bales to the tally, we now have total commitments of 9.2 mio statistical bales for the current marketing year, of which just 5.9 mio bales have been exported. In other words, we haven't even disposed of the beginning stocks yet, even if we add the 2.2 mio bales that US domestic mills have consumed so far. There is still a whole lot of US cotton to get rid of and with China not likely to be very active in the foreseeable future, we expect a tough battle on the export front in the months ahead.

We therefore see it as difficult for the market to continue this uptrend, which has largely been the result of government intervention coupled with some short-covering by the trade and limited new spec buying. However, while there have been some small shifts in trade and spec positions, the overall open interest has actually declined by about 5'000 contracts since this uptrend began on November 20, which combined with the lethargic volume is certainly not what one would expect to see in a healthy bull market.

While the fear of a squeeze in March due to the much reduced certificated stock may keep the market on a firm footing as we head into the notice period, we wonder where the support will be coming from once March goes off the board. The bulls are quick to point out that the outlook for reduced new crop plantings will give the market a boost, but we have yet to see this drop in acreage materialize. Thanks to falling grain prices and cheaper input cost we may see cotton acreage hold up better than expected and although there is no doubt that global cotton plantings will drop in the coming season, we don't know yet whether the reduction will be enough to keep pace with falling consumption.