OMNOVA introduces Saddle Up & Two Step for wallcovering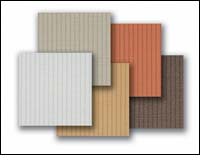 OMNOVA Solutions is pleased to introduce Saddle Up and Two Step, the latest design offerings in its portfolio of TOWER contract wallcoverings. These two designs offer complementary palettes of on-trend colorways from cool blues and greens to warm reds and golds.

Saddle Up combines the rare qualities of big city polish with a truly relaxed nature. This sumptuous, chic leather-look design is nuanced with an understated speckling effect, adding depth and texture. A subtly abraded grain adds an authentic feel, like that of a first-rate leather riding saddle.

The meltingly soft, 18-color palette on an osnaburg backing is modern and sophisticated and will complement any contract interior from an assisted living facility to the boardroom. Saddle Up is bred for life in the city.

Two Step is a reinterpretation of the timeless stripe--three fragile lines come together to build one narrow, vertical stripe. A horizontal texture ground is added to complement this matchstick-inspired stripe. Two Step is offered in 18 lively colorways on a nonwoven backing.

TOWER contract wallcoverings continue to offer classic answers to nature's essence of pure organics with simple refined textures and elegant design.

These 54", Type II, 20 oz. offerings will enhance most any commercial space. Like many Tower designs, Saddle Up and Two Step are GREENGUARD INDOOR AIR QUALITY CERTIFIED for their low VOC emissions.

OMNOVA Solutions Inc.