CSKHPKV gets Rs13.9 mn R&D project on Pashmina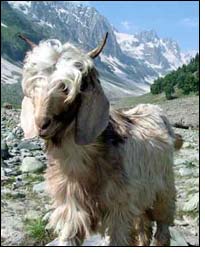 The CSK, Himachal Pradesh Agricultural University has been sanctioned a new research project worth Rs. 1.39 crore under the National Agricultural Innovations Project (NAIP) of the Indian Council of Agricultural Research (ICAR) to undertake research and developmental activities for promoting pashmina production and its efficient utilization in Himachal Pradesh.

The project is to be executed in traditional rearing areas of pashmina goats in Lahaul & Spiti and Kinnaur districts along with its introduction to adjoining non-traditional areas. The broad objectives of the project are to augment the productivity and overall production of the pashmina in this region and to ensure its better and efficient utilization so that the traditional goat farmers opt for this activity as an alternate vocation as in such far-flung and climatically harsh areas the livestock based farming systems form the major source of livelihood for local population.

The project is to be executed over a period of three years by a team of scientists of different departments with Dr. Y P Thakur, Professor, Department of Livestock Production & Management, Dr G C Negi, College of Veterinary & Animal Sciences being the Principal Investigator at CSK H.P. agricultural university. Other associated scientists are Drs P K Dogra, Sanjeet Katoch, K B Nagal, M S Pathania , Arun Sharma and Dinesh Krofa.

The "Pashmina" also known as "Pashm or Cashmere" is a specialty high- value animal fibre known for its fineness, softness, warmth and luxurious feel and is in great demand for woolen textile industry. This fibre is obtained as a fine undercoat beneath the main hairs from special type of goat breeds distributed at high altitude cold arid regions at altitude above 3000 mts. above mean sea level. These goats are known as Changthangi in Ladhakh and Chegu in H.P.

The total Pashmina production in India is hardly about 40 Tonnes / annum constituting less than 0.5% of the total world Pashmina production of approximately 10,000 Tonnes/ annum China, Russia & Mangolia are the the major Pashmina producing countries of the world.

Another disturbing fact for Indian Pashmina industry is that while the world pashmina production has almost doubled from level of 5000 Tonnes in early nineties, the pashmina production in India has remained almost static at the level of 35 to 40 Tonnes over last almost two decades with Changthang plateau of Ladhakh contributing almost 90 percent of the total production. The average productivity / goat/ annum is very low in India, ranging from 100 to 250 gms against 750 to 1000 gm per annum in countries like China, Russia and Mangolia.

Several constraints like low per animal productivity, static population, high disease prevalence and mortality and obsolete methods in harvesting, collection and processing of pashmina are considered to be the main reasons hampering the growth of pashmina production in the natural habitat of thesegoats, thus making it a non- vibrant economic activity.