Pantone launches 'Fall 2009' colour report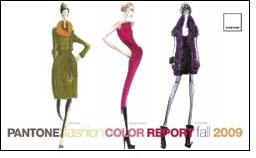 Pantone, an X-Rite company and the global authority on color and provider of professional color standards for the design industries, announces the PANTONE Fashion Color Report Fall 2009. The report features the top 10 colors for women's fashion for fall '09, along with designer sketches, quotes and headshots. The availability of the PANTONE Fashion Color Report coincides with the beginning of New York Fashion Week and is available free-of-charge from the Pantone.

The top 10 fall '09 colors for women are:
PANTONE 19-1759 American Beauty - PANTONE 16-1212 Nomad
PANTONE 18-3520 Purple Heart - PANTONE 17-1544 Burnt Sienna
PANTONE 16-1143 Honey Yellow - PANTONE 17-1929 Rapture Rose
PANTONE 18-1306 Iron - PANTONE 15-0646 Warm Olive
PANTONE 13-1006 Crème Brûlée - PANTONE 19-4125 Majolica Blue

"The fall 2009 palette is more unique and thoughtful than the typical autumnal hues of years past," said Leatrice Eiseman, executive director of the Pantone Color Institute. "Designers recognize the desire for fundamental basics that speak to current economic conditions, but also understand the need to incorporate vibrant color to grab the consumers' eyes and entice them to buy."

In addition to designer contributions, this season's report features insights from industry thought leaders including Tim Gunn, chief creative officer at Liz Claiborne Inc. and mentor on Bravo's "Project Runway," Nina Garcia, fashion director at Marie Claire and judge on Bravo's "Project Runway," as well as Clinton Kelly, co-host of TLC's "What Not to Wear." These fashion insiders offer consumers tips on how to stay fashionable on a budget.

According to the report, subtle contrasts make up the diverse palette for fall 2009. This season, designers play with a broad spectrum of color resulting in distinct, yet cohesive combinations. Like a painter's palette, fall 2009 offers choice and diversity, but the unexpected integration of colors is what makes it so appealing.

A natural choice during uncertain times, patriotic American Beauty, a wonderfully balanced, true red, speaks to the need for cohesiveness. Perfect for all skin tones, American Beauty is a feel-good color. Purple Heart connotes a sense of refinement and sensuality, adding an air of creativity and excitement to the top 10, especially when paired with American Beauty.

A warmer, more subdued Honey Yellow carries the 2009 color of the year, PANTONE 14-0848 Mimosa, through to fall and winter with its golden tones. Pairing Honey Yellow with its color wheel opposite, Purple Heart, will surely add a surprising flair. Or, for a more typical fall combination, group Honey Yellow with Burnt Sienna and Iron.

Strong yet understated Iron serves as the "new black," making traditional basics much more interesting. Neither gray nor brown, Iron is a grounding color that coordinates well with all colors in the palette. Crème Brûlée, a grayed-down beige, and Nomad, which bridges the gap between beige and light gray, also speak to the need for timeless neutrals. All three classics can stand alone or serve as anchors when paired with other colors.