'Slowdown hits exports of synthetic textiles' - SRTEPC Chairman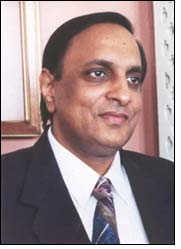 The slowdown in global economic growth has begun to hamper Indian exports of synthetic & rayon textiles, according to Shri Ganesh Kumar Gupta, Chairman, The Synthetic & Rayon Textiles Export Promotion Council (SRTEPC).

After witnessing an average growth rate of 38% in the current year up to July 2008, the growth rate declined to 4.45% in August 2008, said the SRTEPC Chairman while addressing the Interactive Meeting organized by the Indian Banks' Association held on 16th February 2009 in Mumbai.

Shri Gupta added that exports of Synthetic textiles have been growing till August 08 as compared to the same period in the last year. However, the export performance dropped sharply by 12.08% in September 2008 and by 11% in December 2008 .

Going by this trend there is strong possibility of Synthetic textiles exports falling short of the target fixed by the Government for the year 2008-09 by about 15%, Shri Gupta added.

However, with financial turmoil gaining ground in India, most of the exporters have reported huge losses in the quarter ended December 2008 due to sharp exchange rate fluctuations and wrong hedging calls.

The volatility in the exchange rates particularly the INR vis-à-vis the US$in the last few months has created serious financial problems for the exporters since majority of them had booked their export bills receivables in US$ under Forward covers when the Rupee was appreciating steadily against the US$ a few months back.

Later on, when the Rupee started depreciating against US$, such exporters had to incur losses as they were forced to cancel the forward contracts at un-remunerative levels. Since the exchange rate fluctuation has been too steep. Shri Gupta suggested that suitable mechanism be devised under which banks may be advised to share such losses with the exporters.

The SRTEPC Chairman added that over 90% of exports from India involves some form of credit, insurance or guarantee. There is still a huge gap between the interest rates paid by the Indian exporters on export finances and the interest rates paid by our competitors.

Besides, our exporters are facing severe constraints in obtaining trade finance. Further, in India, insurance firms have hiked premium rates by 25 to 30% for export credit insurance covers.

To improve the liquidity and credit flows to the exporters, Shri Gupta suggested that the Interest Rate Subvention on export finances be increased from 2% to 4% for Synthetic textiles sector with retrospective effect from October 1, 2008.Also, the maximum cap of 7% should be removed for this sector.

The Chairman informed the gathering that he has been persistently taking up the problems faced by the exporters in getting credits in foreign currency which the Government has now agreed and has recently raised the ceiling rate on export credit in Foreign Currency by banks to LIBOR plus 350 basis points from the earlier ceiling rate of LIBOR plus 100 basis points.