Lenzing Instruments to present spin finish solutions at ITMEX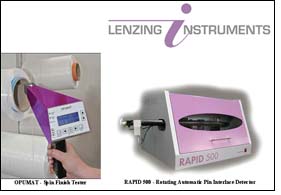 Lenzing Instruments GmbH & Co KG will participate at ITMEX Americas 2009. In the German Pavilion, visitors will find the Austrian company Lenzing Instruments GmbH & Co. KG, offering solutions for the quality control within the fields of filament, fiber, nonwovens, and film production. Lenzing Instruments develops manufactures and markets testing equipment for laboratory use, at-line use close by the production as well as online systems.

During the last couple of years, Lenzing Instruments has extended its product range, which now covers a great part of producers demands for quality control systems.

Filament producers will be interested in discussing newcomers such as OPUMAT and RAPID 500. For the quality control of interlaced yarns, Lenzing Instruments has developed RAPID 500. This is a table top instrument, which determines the number of nodes over a certain length, their split distance as well as the tenacity of the nodes automatically.

The measurements with RAPID 500 can be carried out on the workfloor, directly after the filament has left production. This increases the possibility to react quickly to malfunctions in the production process, reducing waste. RAPID 500 conforms to ASTM norms. The hand-held unit OPUMAT is the ideal tool for a quick and easy check of the oil pick up on the running yarn. Also new with Lenzing Instruments are ALFA NMR and ALFA 300, which both meet filament- and fiber producers demands for accurate and quick spin finish analysis. ALFA NMR determines the spin finish content (FOY/OPU) on fibers and filaments by means of the technique of Time Domain NMR (Nuclear Magnetic Resonance).

Based on modern analytical technology, ALFA NMR features fast, accurate, non-destructive and solvent-free analysis. An alternative to ALFA NMR is ALFA 300. This is the new generation of Lenzing Instruments laboratory testing system for the determination of spin finish content and oil pick up (FOY%, OPU%) of yarns and fibers.

The short testing cycle, the fully automatic testing procedure and the usage of deionized water as finish solvent makes ALFA 300 to an effective, economical and environmentally friendly choice. As for the quality control of nonwovens and films, Lenzing Instruments has recently implemented the following testing systems: The SCIENTA system is offered in cooperation with SCIENTA Oy. With this system, the area weight, moisture content and thickness of nonwovens, fabrics, plastic films and coated products are monitored in real time.

Depending on the material, either a measurement technology based on beta radiation absorption or absorption of near infrared light is applied for the area weight and moisture measurement.

NIS 200 gives real time feedback about aesthetic and physical defects of the web, such as holes, thin- and thick spots, cloudiness, optical density, homogeneity, dirt spots, contamination, printing defects, process drifts, etc. VDM 01 is a standardised vertical measuring system for thickness measurements of fleece, tissue, paper and plastic materials, both in the dry and in the wet state. VDM 01 corresponds to DIN EN ISO 9073-2.