Presentation of Oerlikon Schlafhorst ring spinning know-how at ITMEX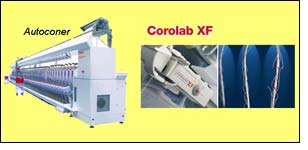 Oerlikon Schlafhorst is going to participate at ITMEX Americas 2009. The ITMEX will take place in São Paulo from 10 to 13 March, 2009. For this exhibition, VDMA Textile Machinery Association will initiate a German Pavilion again.

Oerlikon Schlafhorst positions itself with innovative solutions once again as market and innovation leader for ring spinning, winding and rotor spinning. Numerous new developments and comprehensive, customised spinning solutions 'Made in Germany' ensure excellent and reproducible yarn and package qualities. Furthermore, they generate top productivity performance in short and long staple spinning.

Autoconer - Innovative machine concepts for winding
The Autoconer 5 is an important part of the 'Circle of Success' and unambiguous evidence for the leadership in innovation of Oerlikon Schlafhorst in the field of winding and splicing technology. The new winding machine shows its performance for a wide range of applications. The high productivity and the reproducible package quality which is optimally adapted to the requirements of downstream processing are outstanding features. The new Preci FX yarn displacement system without drum is a milestone for innovative package design. With this, Oerlikon Schlafhorst once again revolutionizes the processes of winding technology. Individual package design, highest flexibility and productivity are performance features which are going to influence the dynamics of the textile market in the future.

The modular concept for winding machines by Oerlikon Schlafhorst enables spinning mills to select a machine customised for their process structure and to be always on the winner's side, no matter if they want to process bobbins or to rewind packages. Thanks to state-of-the-art electronic, a CAN-Bus system with nearly unlimited capacity and the plug & wind technology, the Autoconer can be adjusted in its performance spectrum anytime. And no matter which displacement system is applied, customers can definitely trust in the core competence of Oerlikon Schlafhorst: generation of excellent Autoconer package quality.

Autocoro and BD line - Oerlikon Schlafhorst sets new standards
Oerlikon Schlafhorst offers to the market the rotor spinning machine family which excel with new performance features for more quality and productivity. The Autocoro will be offered in its new concept consisting of the Autocoro S 360 and Autocoro 480. With both machines, Belcoro yarn and package quality is guaranteed; the level of automation, however, can be adjusted by Autocoro customers precisely to their individual requirements. An outstanding criteria for quality of the Autocoro S 360 is the new piecing technology DigiPiecing. This innovative piecing technology with 100% digital control and digital piecing test scores due to piecings of maximum quality. Furthermore, it is one of the bases of the high productivity of the Autocoro S 360. The Autocoro S 360 is the only semi-automatic rotor spinning machine worldwide which realises rotor speeds of up to 130,000 rpm and take-up speeds of up to 230 m/minute in practice.