Springs Global restructures to support innovation & brand focus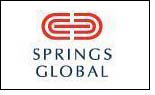 Springs Global Inc. announced a new organizational structure for Springs Global US Inc. in which the company will operate in two distinct business units –Branded Business Unit and Private Label Business Unit. The move, which poises the global home fashions manufacturer for brand leadership, includes the naming of industry experts Joe Granger and Harvey Simon as business unit presidents.

"Our core strategy is to foster innovation, bring new products to the marketplace under our brands and our retail partners' brands, and deliver a full presentation of products for the home," said Josué Gomes da Silva, CEO and Chairman of Springs Global. "This restructuring will allow us to leverage our valued brand assets and provide unparalleled products, service and creativity for our customers and consumers.

"The team of senior leaders that will guide Springs Global US in this new approach makes us confident that we will deliver excellence to all of our stakeholders and succeed in today's economic environment," he said.

Springs has named Joe Granger president of its Branded Business Unit, which includes Springs' recently re-launched Springmaid brand, its 160-year-old Wamsutta brand, and well-recognized licenses including Walt Disney World, Court of Versailles, Serta and others.

Granger comes to Springs with more than 20 years across all home product categories and brand leadership. Most recently senior vice president with Ralph Lauren Home, Granger's experience includes a broad portfolio of Ralph Lauren brands, including Lauren, RL Paint, American Living and Chaps. He oversaw all aspects of Ralph Lauren Home licensed businesses in multiple channels, and the launch of Chaps Home and American Living Home brands including product development, sourcing, fixture design/manufacturing, retail marketing and collaborative influence on all product design. Granger brings to Springs Branded Business Unit a comprehensive knowledge of a branded product lifespan, from idea generation to the consumer experience.

Granger, who also served as vice president of sales and merchandising for Calvin Klein Home, began his career with Fieldcrest Cannon including positions as sales representative, regional manager and national sales manager.

Harvey Simon, who has been with Springs for more than 15 years, has been named president of Springs Private Label Business Unit. Simon most recently led all merchandising for Springs Global's bedding unit. Prior to joining Springs he was with Lenox and has a strong retail background with May Co.

The two new business units will be supported by a shared services organization led by Springs Chief Financial Officer Flavio Barbosa and a creative organization led by Springs Chief Creative Officer Edward Cardimona. The new organizational structure underscores the importance of customer service and takes advantage of the talents and expertise of Springs' customer service team.

"We value our customers and our partnership with them and appreciate their support and patience during our transition," said Tom O'Connor, group president of Springs Global US. "Our renewed emphasis on customer service assures that we have the right structure and the best people in place to help us meet our retail partners' needs with speed and excellence."