Exquisite Amish quilts on view at Textile Museum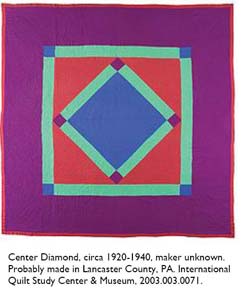 The Textile Museum's spring 2009 exhibition, Constructed Color: Amish Quilts, will feature the finest group of Amish quilts in the world. Through the display of 30 pieces, the exhibition will illustrate the visual connections between Amish quilts and mid-20th century art and show how variations in the quilts reveal the choices of individual Amish communities.

The quilts are drawn from three collections at the International Quilt Study Center at the University of Nebraska-Lincoln, each representing a distinct Amish community. Constructed Color will be on view April 4 – September 6, 2009.
Quilts as Art

Amish women, untrained as artists, have produced a distinguished body of visual art in the form of quilts. These fabric compositions resemble mid-20th century paintings ? particularly because of their large single color areas ? although the quilts have origins as early as the 18th century. The art world took note of the remarkable similarities between quilts and modern art in 1971 when an exhibition at the Whitney Museum of American Art in New York exhibited pieced quilts on walls normally reserved for works by contemporary artists.

"The Whitney show forever changed the way people see and think about quilts," said Rebecca A.T. Stevens, The Textile Museum's Consulting Curator for Contemporary Textiles and the coordinating curator for this exhibition. "Today Amish quilts are studied both for their relationship to social history and as marvels of color construction."

Amish Quilt Types
Each Amish community produces distinctive quilts, the variations depending upon a number of factors: the availability and choice of materials, the influence from non-Amish neighbors and the relative conservatism of the group as determined by its community guidelines (Ordnung).

Constructed Color highlights the differences in the quilts of each of the three groups: the Jonathan Holstein Collection, featuring quilts from Lancaster County, Pennsylvania; the Ardis and Robert James Collection, focusing on quilts from Midwestern communities; and the Henry and Jill Barber collection featuring quilts from Mifflin County, Pennsylvania.

Classic Lancaster County Amish quilts typically include flat planes of saturated colors. Rich blues, browns, and tans are often used together in unusual combinations, creating striking visual compositions. Midwestern Amish quilts, in comparison, are usually distinguished by their dark backgrounds and the use of repeat patterns. These quilts often include brilliantly colored, polished cottons, giving the fabric a beautiful sheen.

Mifflin County, Pennsylvania is home to three different Amish groups: Nebraska Amish, Byler Amish, and Renno or Peachey Amish, each distinguished by its own quilt-making tradition. Nebraska Amish quilts normally incorporate shades of brown, blue, purple and gray in named patterns such as One Patch, Four Patch, Nine Patch and Bars. Byler Amish quilts use many of these patterns but also include bright shades of pink, yellow, orange and blue. Renno/Peachey Amish quilts are similar to Midwestern Amish quilts, but are distinguished by their black backgrounds juxtaposed with bright fabrics of golden yellow, blue, purple and green.