Industrial thread sales up 2% in Asia at Coats Group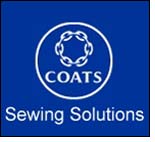 Coats Group Ltd announces unaudited preliminary consolidated results for the year to 31 December 2008.

Highlight:

• Sales up 4% on 2007 at end of first 9 months. Severe deterioration in global economic conditions in the fourth quarter resulted in fourth quarter sales 20% down on the comparable period in 2007 and sales for the year as a whole 2% down.
• Industrial thread sales up 2% in Asia for full year 2008.
• Industrial thread pre-exceptional operating profit margin at 10%, comparable to 2006.
• Craft sales 2% up in Americas for full year 2008.
• Europe crafts restructuring progressing well, but operating environment remains exceptionally difficult.
• Strong operating cash flow before reorganisation costs, reflecting a $41.9 million reduction in net working capital, with lower stock and debtors than at the 2007 year end.
• Improvement in net working capital/sales over 2007 year end, reflecting supply chain benefits and reduced trade debtor days.
• $104 million invested in capital spend/reorganisation projects in 2008.

Chairman's statement
Although the overall reported result for the year is disappointing, much has been achieved in 2008, in what has been a very difficult year due to the unprecedented deterioration in global economic conditions, with credit constraints impacting consumers and retailers alike. The year saw oil prices peak at $140/barrel and costs of energy and commodities increase significantly. Together with a weak US dollar for much of the year and strengthening currencies in countries in which Coats has key operations (such as Brazil and Mexico), costs in US dollar terms rose significantly. Sales at the half year stage were 6% up on a buoyant 2007 and were 2% up in the third quarter. However, Coats' industrial sales are largely driven by demand for clothing and footwear, which fell in the fourth quarter, and Coats' total sales were 20% down on 2007 in this quarter.

This, together with actions to idle plants to conserve cash, resulted in a poor fourth quarter result. Notwithstanding these conditions and a very poor result from Europe crafts, 2008 operating profits and net debt position demonstrate Coats' resilience and ability to generate cash in these circumstances.

Despite market conditions, Coats' competitive position and market share continued to improve as a result of the substantial investment that has been made in the last few years in the upgrading and relocation of capacity and from the significant progress in rationalising the product offer in both the industrial and crafts businesses. A pre-exceptional operating profit (before reorganisation, impairment and other exceptional items) of $102.8 million (2007 - $158.1 million) was generated. At the half year stage, profits of $67.5 million were in line with 2007 ($68.4 million). However, they fell below 2007 levels in the second half due to the sales decline in the fourth quarter.

A pre-exceptional operating profit of $109.9 million (2007 - $132.6 million) was delivered by the industrial thread business. While industrial profits exceeded 2007 at the half-year stage, the severe global downturn in the second half, together with destocking in the supply chain, impacted the demand from the key apparel and footwear sectors. There was pressure on margins from plants operating at below normal utilisation due to the sales shortfall. In addition, the unprecedented volatility in costs referred to above adversely impacted profits as these could not be fully recovered through price increases in the short term.