Terrot to exhibit perfect circular knitting technology at ITM, Turkey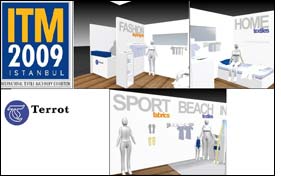 ITM 2009 which is the dedicated textile machinery exhibition for the region will host a wide range of textile machinery technologies. More than 1,000 local and international exhibitors will participate at the fair. Tüyap Fair will take place at Convention and Congress Center, Beylikdüzü, Istanbul, Turkey from 6-10 June.

Terrot as one of the world brand leader is among the exhibitors at ITM 2009. Perfect circular knitting technology combined with the "finest Terrot knitted fabrics" is the culmination of well developed machine engineering designed to sharpen the competitive edge of our international customer base. The brand Terrot stands for quality and top performance in the construction of electronically and mechanically controlled circular knitting machines around the world.

Maximum efficiency and an outstanding cost-to-performance ratio, combined with truly universal application and operating convenience: These are the objectives at the forefront of our machine design and development work.

ITM 2009 will be an outstanding tool to approach the market with our new exhibition concept: "Fair as a factor of success – Partners benefit from each other"

For a worldwide presentation of the brand Terrot and its innovative products, designer gave our fair concept a new design with that the application-areas of Terrot circular knitting machines will come more to the fore.

This means that our international clients will benefit from more customer proximity and suggestions for new ideas. With the friendly support of producers of high-qualitative products Terrot invites you to visit our booth 916 hall 9 where we will surprise you with an insight in the range of application as well as the versatility of fabrics knitted on circular knitting machines:

FASHION day&night - Clothes make the man. Our clients are specialists in realising the ideas of the international designer world and the production of knitted fabrics and fashion clothing for different kind of target groups.

The scope of final goods is nearly inexhaustibly: polo shirts, striped shirts, sweater, tops, T-shirts, slipover, pullover, shirt jackets, waistcoats, leggings, trousers, skirts, dresses, evening dresses, tunics, fleece jackets and accessories… High-class qualities, excellent fit, perfect fashioning and trendy designs are the success criterions of our clients at the beachwear market. Cotton, polyacrylic, polyester, polyamide and elastane are still important components of outerwear. To produce premium fabrics out of these yarns we provide you the suitable circular knitting machines.

Underwear and wonderful lingerie – the fantastic feeling to have fine materials on the skin. Nothing is more closely to our skin and influences more directly our body feeling like underwear and lingerie. The product range extends from brassiere over bodies, briefs, shorts, pants, shirts up to sleep wear as well as wellness wear. Perfectly fittingunderwear which does not show under tight clothes, an excellent fit, best processing and functionality of the articles also for sporty usage as well as fashionable designs these are the criteria for the success of our customers in the underwear and lingerie area.