Daily worldwide cotton market report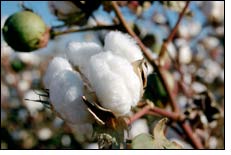 Last night in New York futures market, May 2009 closed at 48.15 with a loss of 26 points with a volume of 17091 contracts traded, the July 09 closed at 48.98 with a gain of 25 points and the volume traded under July cover remained 15102 contracts, while the October closed at 51.78 with a gain of 25 points, the business volume under October cover was 200 contracts. The " A" index declared settled at 56.40 with no changes today.

The spot rate of KCA remained firm and strong, as the settlement declared at Rs. 3450/= with no changes today. In the domestic market 1000 bales of RahimYar khan changed hands at Rs. 3400/, 1700 bales of Sahibabad sold at Rs. 3500/, 600 bales of Shujaabad sold at Rs. 3400/, 400 bales of Chichawatni sold at Rs. 3450/=, 600 bales of Haroonabad sold at Rs. 3425/= 2500 bales of Hasilpur sold at Rs. 3500/ , and 400 bales of Oderolal changed hands at Rs. 3400/= .

Polyester prices are now retreating in china after experiencing a sharp increase in the past two weeks. Staple fiber prices are less resisting than filament yarn prices. Spun yarn makers were unable passing the full rise in their costs on to their customers.

The German market continued attracting about 23% of total EU clothing imports in the last year. Shipments began sliding to the UK. While they strongly rose to Italy in value terms and fell in volume terms. Spain remained the most dynamic import market amid largest European destinations.

EU cotton denim imports significantly fell in the last year, reflecting a new decline in denim clothing production in Europe. Spanish imports of low-cost fabrics from morocco however rose while Tunisian shipments of higher-priced products heavily fell. Turkish suppliers continued dominating a rapidly collapsing European market.

Cotton prices further rose in the last week in New York, with new increases being also reported in Pakistan, India and china. US. origins continue dominating the international market but spinners are now expected to suspend buying in order to stabilize cotton prices.

Polyester intermediate prices began slightly retreating over the weekend in Asia, after the recent rally finally lost steam. Prices could now stabilize at significantly higher levels than three months ago. Coming trend will heavily depend on the reality of the announced recovery in china's textile and apparel exports.

Ghulam Rabbani & Co.