'Outlook remains unclear' - Dixie Group Chairman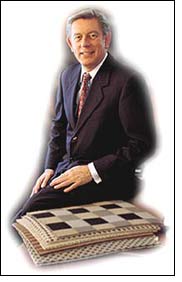 The Dixie Group Inc reported financial results for the first quarter ended March 28, 2009. For the first quarter of 2009, the Company recorded $33,021,000 of unusual pre-tax costs as a result of impairment of goodwill, together with facility consolidation and severance expenses related to implementation of the Company's cost reduction plans. Of these expenses, $31,406,000 were non-cash.

Including the unusual items, the Company reported a loss from continuing operations of $35,441,000, or $2.90 per diluted share, in the first quarter of 2009, compared with income from continuing operations of $82,000, or $0.01 per diluted share, for the first quarter of 2008. Excluding the unusual items, the non-GAAP loss from continuing operations was $5,932,000, or $0.48 per diluted share, for the first quarter of 2009. Sales for the first quarter of 2009 were $47,639,000, down 33% from $70,722,000 in the year-earlier quarter.

Commenting on the results, Daniel K. Frierson, chairman and chief executive officer, said, "Sales of residential and commercial carpet deteriorated significantly during the first quarter of this year – for both the carpet industry and our business. We believe higher-end markets, where our business is concentrated, were affected more than the industry in general.

We lowered inventories by over 12% in the quarter, which improved our balance sheet, but reduced production below our sales levels. Significantly lower production led to operating inefficiencies and higher unabsorbed fixed costs, which more than offset lower raw material and energy costs, and the effect of our cost reduction plans. We have taken additional actions to further reduce costs in response to current business levels.

"Our plan to consolidate our carpet tufting operation in Eton, Georgia, into our tufting, dyeing and finishing plant in Atmore, Alabama, is now complete. We reduced staffing an additional 13% in the first quarter, primarily in March, bringing our total employment down by 26% since the beginning of 2008. During March, we also reduced the level of compensation for all of our exempt salaried associates.

The cost incurred to downsize our East Coast operations and reduce staff is now substantially behind us. We began seeing some of the benefits from these actions in March of this year. The full effect of these actions, additional staff reductions we have made, together with salary reductions, should have a positive impact on our results for the remainder of this year.

"Following our evaluation of Fabrica's business, we have concluded that our customers can best be served by consolidating our Santa Ana tufting plant into our Santa Ana dyeing, finishing, and distribution facility. This consolidation, expected to be completed by the fourth quarter of this year, will trim operations to better align with Fabrica's business activity levels and reduce costs. Expenses to complete our cost reduction plan are expected to be approximately $400 thousand, which should be recorded throughout the remainder of this year.