28th India Knit Fair concludes successfully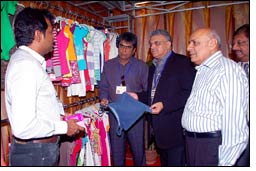 The three day event of India Knit Fair organized by Apparel Export Promotion Council (Sponsored by Ministry of Textiles, Government of India) in collaboration with Tirupur Exporters' Association under the umbrella of India Knit Fair Association was held at IKFA Complex, Tirupur from 20th – 22nd May, 2009.

Wide range of garments (Spring/Summer Collections) were displayed at the Fair. Famed Designers, reputed Export Houses across the country took part in the event. Shri J. Chandransekaran, Chief General Manager, State Bank of India, declared open the 28th India Knit Fair in the presence of AEPC Chairman, Shri Rakesh Vaid ,Shri V.K.Singh, I.A.S. Secy.General AEPC, Shri S.A.Ramesh Rangan General Manager Mid-Corp.Group, State Bank of India, Shri A. Sakthivel, Chairman, IKFA, Shri Ashok Rajani, Vice-Chairman, AEPC,Shri Virender Uppal,Chairman, Foundation Committee, AEPC, Shri HKL Magu, Apparel House, AEPC and others.

EXPORTERS' MEET
Proceedings of the fair started with EXPORTERS' MEET on 19th Evening at IKFA Complex followed by Fashion Show. The meet was attended by a fairly good number of exporters. Chairman, IKFA, Mr.A.Sakthivel extended a warm welcome. Mr. J. Chandrasekaran, Chief General Manager, State Bank of India, inaugurated the India Knit Fair .

Mr.Rakesh Vaid, Chairman, AEPC in his Presidential address said that the Knitwear Industry of Tirupur was making rapid progress. The country has registered over four percent growth in apparel exports despite the global economic downturn. The export stood at $10.13 billion in 2008-09 against $ 9.68 billion in 2007-08 . Substantiating the views, he pointed out that apparel exports from other Asian countries like Indonesia, Bangladesh and China registered exponential growth of 35%, 20% and 15% respectively during last fiscal. In the next three years participation of Foreign Business houses in the Indian Market was imminent and it was important that the Indian Industry prepared itself to meet the competition.

Shri.Vimal K.Singh, I.A.S. Secretary General, AEPC, Shri Virender Uppal Chairman, Building Committee, Shri. Ashok Rajani, Vice-Chairman of Western Region,Shri Andrew Evans, Director, Invista Apparel, South Asia Shri.G.Karthikeyan, Secretary, Tirupur Exporters' Association also addressed the meet. Shri.Premal Udani, Secretary, IKFA proposed the vote of thanks.

The fair displayed wonderful Spring / Summer Collection of gents, ladies and baby wears made displayed with more verities apart from Cotton, synthetic and synthetic blended Summer Collections. There is a new development in Mineral Fabrics which is performed from earth. It has very good comfort wicking property odour resistance UV protection and more comfort in any environment.

Garment made with Organic Cotton Bamboo Viscose , Viscose Lycra, Viscose Modal with reactive print were also noticed. Re-cycle Garment made with cotton waste fabric is more attraction to the fair this time.